All Commercial Vessels for sale in Congo
This barge is available for prompt delivery, sale only. Located currently in African region. Launched in 2009 in current ABS+A1+Barge. Built by Oriental Precision Engineering, Korea. LOA 100m x 30.5m. 5 x 590kW generators with 8 point mooring system. Main crane is 68t@6.8radius. Free deck area 1338m3with 15tm load. Accommodation is via 4 x 1 man suite, 6 x 1man, 80 x 4 man totaling 330 pax. Helideck suited Sikorsky S-92A helicopter. No charter option, sale only. For a more detailed specification, please feel free to contact us....
read more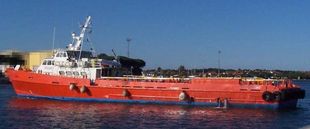 1001BSB 1984 CREW BOAT Crew Boat For Sale and Charter FROM DIRECT OWNERS OTHER DETAILS Fast Support Intervention Vessel Now under charter in West Africa Refurbished in 2007 Clear Deck Surface: 150 m2 Deck Cargo: 153 tons 1 x Bow thruster 150 HP 2 x Manoeuvring control positions...
read more