Used Boats: Passenger Boat:
65
Adverts Displaying:
11
-
20
SWRO [salt water reverse osmosis] barges and shoreside facilities Large capacity barges and shoreside facilities. Send your requirements, and we will design a system to fit your needs....
read more
GENERAL PARTICULARS Built: 1990 Builder: Eikefjord Norway Class: RINA Coastal Navigation A1 Flag: Italy Port of Registry: Naples Hull: Reinforced Fibre Glass Sandwich www.horizonship.com ACCOMMODATION Crew accommodation: 7 persons - Passengers: 330 persons MACHINERY Engines: 2 x Deutz MWM 604 TBD 16 Engine power: 1600 KW at 1690 rpm Fuel: Diesel Reduction gear: ZF Marine BW 755 Propellers: 2 x Kamewa type 63 S11 Stabilization system: Raid control system Lift motors: 2 x type GM 8V 92TA power 381 kw at 1700 rpm Lifting fans: 4 x centrifugal type fans DIMENSIONS Length: 36.35m Lengt...
read more
Year:
1990
Length:
36.35m
Location:
UK
Price:
$1,500,000

View Details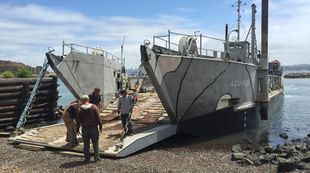 MORE LANDING CRAFT www.horizonship.com MAJOR REFIT 2015 NEW WORK 2015 May - Yard Work at Bayside Boat Works Sausalito New shafts x3 (2.5 inch) New Props x3 (24x38 four blades) Rebuilt stuffing boxes New shaft cutlass bearings 3 inch Rebuilt rudders x 3 and steering system New zincs x 26 Replated Starboard hull as reported in Survey with insets to coast guard specs Replated under all three transmissions per Survey with insets Replated gate Rebalanced engines Rebuilt stern prop protections tubes Fixed several small areas under fuel tanks with new plate Epoxy coated entir...
read more
215' Lift Boat for Sale Length 137'0" Overall Beam 74'0" Hull Depth 10' Draft 7.57' CHARACTERISTICS Open Deck 6000 sq.ft. Maximum Deck Capacity (Elevated) 1000000 lbs. Overboard Pump / Fire Pump 2 LEGS Quantity 3 Length 215' Diameter 72" CRANES Quantity 2 Capacity of Port Crane 175 Ton Boom Length 100' Capacity of Stbd. Crane 50 Ton Boom Length 100' GENERATORS 199 kw Cat C 6.6 2 GROSS TONNAGE Under 200 Tons CERTIFICATIONS U.S.C.G. 46CFR Subchapter L Yes Lloyds Load Line Yes LIVING QUARTERS Berths 36 for 3rd part...
read more
MORE TANKERS www.horizonship.com FOR SALE WELL MAINTAINED STAINLESS STEEL OIL TANKER 2698 DWT ON ABT 5.21M DRAFT - DOUBLE HULL BLT 1994 ITALY IRS - NEXT SS 6/2024 - NEXT DD 6/2022 LOA 89.60 / BEAM 13.80 / DEPTH 6.65 M 14 TANKS - CAP 2966 CBM PUMPS 14 X 150 CBM/H STAINLESS STEEL COILS / STAINLESS STEEL TANKS YANMAR 6N330-EN 2999 BHP - 12.5 KNS AT 6 TONS BOWTHRUSTER DETAILS WOG WORKING CLEAN CARGOES ONLY. PRICE 1.25 MILL...
read more
Year:
1994
Length:
89m
Location:
UAE
Price:
$1,250,000

View Details
Self-propelled 150t Crane Barge (47.5 x 17m) - present rigged for 120t and 34.5m Boom - 6 point mooring - Panama ISB Class and Panama Flag 2. Three Diver Mixed Gas system (only 4 years old) - IMCA certified Chamber (Containerized 20ft) - Machinery Container with electric and dieseldriven Compressors, UW-Welding and Hydraulic Powerpack - Workshop Container 3. Aluminum Dive Tender - 2x75hp Mariner Outboard engines (9x2.5m) - built in divesystem 4. Upgrade Package for DP2 - (additional 3 Mio USD with possible New Built Certificate) - 4xThrustmaster Outboard-Drive Azimuth with Kongsberg Simrad DP2...
read more
Year:
1985
Length:
47m
Location:
USA
Price:
$3,200,000

View Details
300' x 62' x 11' Deck Barge with bow thruster for sale Fresh water barge built to ABS standards but never ABS certified. Located US Gulf Region Price $1,095,000. I can find you what you are looking for Tommy Benson Horizon Ship Brokers, Inc. (Texas USA) Mobile: 936-689-7189 Skype: tomebenson Email: tommy@horizonship.com Web: www.horizonship.com...
read more
Year:
1997
Length:
300'
Location:
USA
Price:
$1,095,000

View Details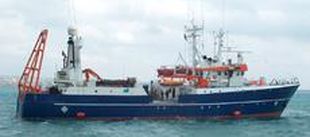 www.horizonship.com Research / Bathymetry / Survey / Geotechnical / ROV survey. Dynamic Positioning A Frame Class DNV  1Al E0 ICE-C RINA C  SPECIAL SERVICE: RESEARCH SHIP Trading Unlimited Built Storvik Shipyard 1970 Length o.a.: 46.50 m Beam: 9 m Draft: F 5,5 m. - A 6 m. Gross tonnage: 600 GT. Net. tonnage: 180 GT. Moon Pool Diameter cm. 77 Moon Pool pole 6 m long for equipment installation Free deck area: 135 m2 Instrument room: 24 m2 Processing room: 35 m2 Wet lab: 9 m2 Cap. deck cargo: 25 t. Cap, bunkers: 155 m3 Fresh water: 42 m3 Evaporator cap.: 5 t. / 24 hrs...
read more
Year:
1970
Length:
46.5m
Location:
Italy
Price:
$2,000,000

View Details
MORE LIFT BOATS, JACK UPS, ACCOMMODATION www.horizonship.com Designed for accommodation support and light construction the rig was built to highest standards with top Western equipment throughout. Type : work‐over/accommodation rig YOB : 2016 – 4 months from signed MOA Class : ABS Dimensions : 57 x 44,20 x 6,90 meter Gross tonnage : 5097 Deck area : 1200 m2 variable load : 905 tons Helideck : yes S92 Crane : 2 x...
read more
115' Crew Boat for sale Clear Deck 58' x19' 67 ton payload Triple DD 12V-71 TI total 1800 hp 22 kts at 75 gph Generators (2) 30 kw DD 3-71 49 passenger USCG certified 2100 gal fuel 600 gal pot water Radar equiped The COI is currently lapsed and the boat needs a two year hull inspection.The COI and hull inspection will included in the sale. This owner keeps his boats in very good condition and the USCG will reinstate COI when owner is ready to reinstate inspection status Tommy Benson Horizon Ship Brokers, Inc. (Texas USA) Mobile: 936-689-7189 Sk...
read more
Year:
1974
Length:
115'
Location:
USA
Price:
$449,500

View Details